In April DS5 Inside The Industry published an article and video about the current state of mortgage forbearance in the real estate industry. In the video the host Rachel Williams discusses forbearance with Dr. Mark A. Calabria the director of the Federal Housing Finance Agency (FHFA).
Forbearance, in the context of a mortgage process, is a special agreement between the lender and the borrower to delay a foreclosure. The literal meaning of forbearance is "holding back." When mortgage borrowers are unable to meet their repayment terms, lenders may opt to foreclose. To avoid foreclosure, the lender and the borrower can make an agreement called "forbearance."

– WIKI Definition
Interview DS5: Inside the Industry
Watch the video to hear more from Dr. Calabria.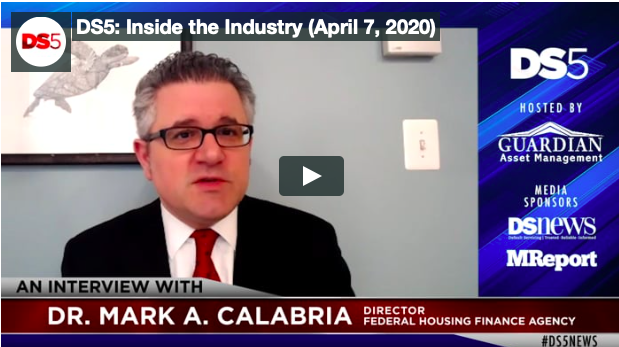 Dr. Mark Calabria suggests that if current homeowners are experiencing financial hardship during the COVID-19 pandemic they might consider speaking to their mortgage companies about mortgage forbearance.
EXCERPT: "We're operating on the honor system," Calabria said. "We are asking and we're putting together a script for servicers. This is supposed to be limited to if you've lost your job, you've lost income. Please, if you haven't lost your job, continue paying. If you can pay your mortgage please do so because we really need to focus on the people who can't." Despite the honor system in place, borrowers will still have to provide documentation when setting up their repayment plans.
Top Takeaways about Mortgage Forbearance
There are a few takeaways from this interview that will help homeowners understand what direction to go. Firstly and most importantly, if a homeowner is having difficulties paying their mortgage they must contact their mortgage servicer. Secondly, understand that you may verbally qualify. And lastly, Thirdly – The forbearance must be paid back later or at the end of the mortgage loan. In conclusion, homeowners should speak to their mortgage companies as soon as possible.
You can watch the full episode on The Five Star Institute, "FHFA Director Discusses Forbearance" by Henry Ansah – published on April 6, 2020.
In May DS5 reported that an additional 2.1M Americans File For Unemployment. Washington led the nation with the highest insured unemployment rate of 31.2% with Connecticut showing up at 10th with 18%. The article states that "This report comes days after the nationwide delinquency rate hit its highest single-month increase in history in April, according to the First Look at April mortgage performance data from Black Knight. "