Connecticut's housing market hottest in the country right now!
According to the National Association of Realtors® most areas of the country saw pending home sales dip in July, however, Connecticut has seen a continued frenzy of real estate buying.
Median Home Sale Prices rise 14.9%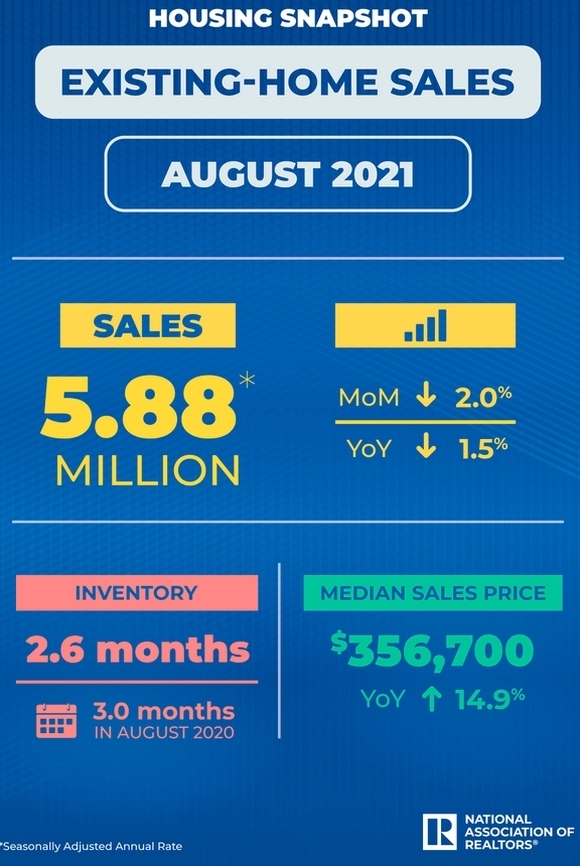 The pending home sales index (PHSI), is an indicator of home sales based on contract signings. The lack of inventory is one explanation for what has been holding sales back. The law of supply and demand in the housing market can drive prices up and cause bidding wars. The S&P CoreLogic Case-Shiller National Home Price NSA Index reported a record-breaking pace of accelerated home prices, the highest reading in more than 30 years.
The median home price for all housing types in the US in August was $356,700, up 14.9% from August 2020 ($310,400), as prices increased in each region. This marks 114 straight months of year-over-year gains.
The US numbers are very close to what we are seeing in Connecticut.
Other housing market indicators
Distressed sales – foreclosures and short sales – represented less than 1% of sales in August, equal to the percentage seen a month prior and equal to August 2020.
At the same time, mortgage-backed securities gained +5 basis points (BPS) causing fixed mortgage rates to move sideways.
The average hourly earnings rate in Connecticut were higher by $0.06 (0.2%) from August 2020, the resulting August 2021 private sector weekly wage averaged $1,165.47, up $5.44 from a year ago (0.5%). (ct.gov) And the CT resident unemployment rate in August 2021 was 7.2% (seasonally adjusted), lower by 0.1 percentage point from the revised July 2021 level of 7.3%. The Connecticut unemployment rate was 8.4% in August 2020. The U.S. jobless rate in August 2021 was 5.2%, down two-tenths of a percentage point from the July 2021 rate of 5.4% and down from the 8.4% U.S. unemployment rate a year ago.
Keeping abreast of what is going on with the economy in relation to the housing market and mortgages can be daunting. Let me help you when it comes to securing a mortgage.
If you are looking to buy in this exciting housing market, contact Burke Mortgage.