More and more people are closing on new homes. And Burke Mortgages is getting 5-STAR reviews!
Connecticut's housing market is as HOT as it has been in over a decade! Buyers are buying and sellers are selling. 
Best advice for sellers? It's still very important that you make a positive first impression from the outside throughout the inside. Declutter, fix, and de-personalize. Don't leave it to their imaginations, they'll be seeing a lot of other houses positioned to sell. 
Best advice for buyers? Contact us to discuss your mortgage options! Call today. 
But don't just listen to us… See what people have been saying about Burke Mortgage by posting on Google Reviews and Zillow Reviews.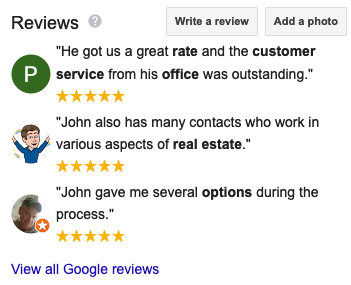 Best ReFinance Rate!
John is very knowledgeable , Did a good job finding me the best refinance rate. And helping to roll some debt into the mortgage which isn't easy during Covid times . Even helped me save alot of money on insurance. Thanks again for all your help. ~ Rick Adams – February 2021 on Google Reviews
Positive: Professionalism, Quality, Responsiveness, Value
I had a great experience working with John! Before committing, he and I spent a lot of time working through the options and weighing what would and would not work for me. I'm an engineer so I like to dig into the details, which he was very happy to do with me. He will give you the "no BS" bottom line, unlike other brokers I talked to when shopping around. I decided to go with his recommended attorney (Jon Golas) and don't regret a thing. The two together work very efficiently and were able to get everything settled in about 19 days (including weekends)! When we decide to do this again, I'll be sure to give John a call! ~ Sean Danby, January 2021 on Google Reviews
John is the best! Don't hesitate to give him a call!
John was recommended to me through a good friend and did an amazing job throughout the entire home buying process. Buying my first home I had a lot of questions, and he answered anything and everything I needed to know. Best of all, John is in your best interest and is very honest and upfront. I'd much rather deal with an experience on a personal level than go through computers and phone calls and not know what you're getting yourself into. Highly recommend John Burke's work! ~ timesofgrace7 from Enfield, CT – January 2021 on Zillow Reviews
If you're thinking of buying or refinancing in Connecticut – contact us!